Grange Park is a two-hectare greenspace in downtown Toronto. The park was originally part of The Grange estate built in 1820 by the Boulton family, who played an influential role in developing the young city of Toronto. The area now known as Grange Park served as the Boulton family's front lawn, with a pathway leading from John Street to the front door of The Grange house and an elliptical path for carriages. These pathways remain in the park today, as a testament to its heritage.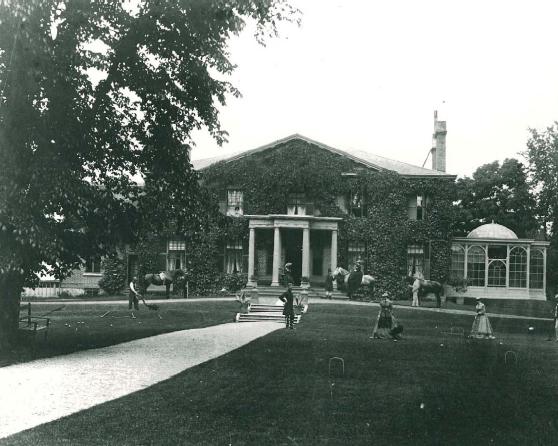 In 1910, Harriette Boulton Smith bequeathed The Grange house and estate to the newly founded Art Gallery of Toronto, for the purposes of building an art museum on the property. In 1911, the Gallery entered into an Agreement with the City of Toronto (Part 1/ 2 /3) to operate the land south of Grange House as a public park. This agreement still stands between the AGO and the City, and Grange Park has become a well-loved and well-used neighbourhood park.
In the mid-1970's, Grange Park was expanded through the South East Spadina Part 2 Plan process with the closure of Grange Road (from Beverley to John) and John Street (from Stephanie to Grange Road), to establish the area that comprises the park today.
Grange Park currently serves a daytime population of approximately 5,000 people. These are local residents, people who work in the area or attend school, as well as people using the services of the University Settlement or visitors to the AGO or Chinatown.  The park is within a 5-minute walk of a number of about 3,000 people who live in apartments and depend on Grange Park as their primary outdoor space or "backyard". The park is versatile for its small size, providing a pastoral setting for individuals to relax, as well as a place for outdoor activities for daycare groups, children's camps and afterschool groups. It is a favourite destination for youth, dog walkers, tai chi practitioners, cyclists and parents/grandparents with young children who spend hours in the wading pool during the summer and at the playground year round. It's a pleasant shortcut between Dundas and Queen Streets. The large lawn in the middle of the park attracts spontaneous bouts of soccer, croquet, Frisbee playing and catch, and depending on the year, an outdoor ice rink. And the large trees provide a cool and quiet spot to read, snack and snooze during hot summer days.