Grange Park Today
Grange Park is a beautiful, welcoming and accessible park. The park is a versatile space, providing a pastoral setting for individuals to relax, as well as a place for outdoor activities. The large lawn in the middle of the park attracts spontaneous bouts of soccer, Frisbee playing, catch and croquet. The large trees provide a cool and quiet spot to read, snack and snooze during hot summer days..
Special features include:
Trees: The park has 180 trees, including more than 80 new trees that were planted in 2016 to ensure a continued mature canopy for future generations. Species include American elm, horse chestnut, beech and oak, among others.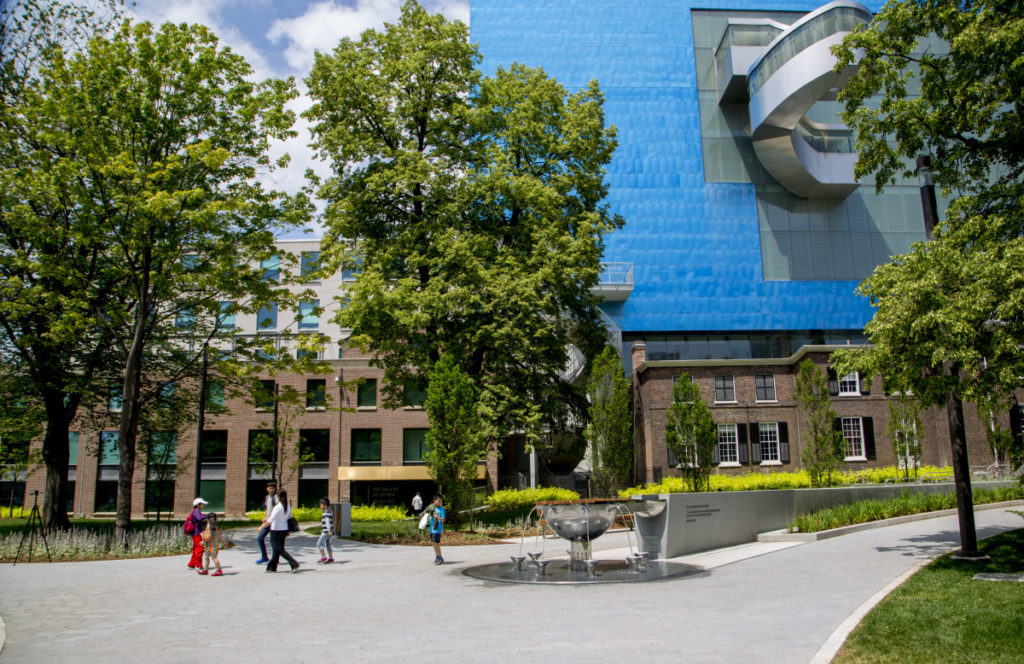 Children's Play: The children's play area has customized equipment in shapes that evoke artistic creativity, such as paint palettes, paint cans and crumpled pieces of paper. The play area is divided into two zones: one for younger children, 2-5 years old; and one for older children.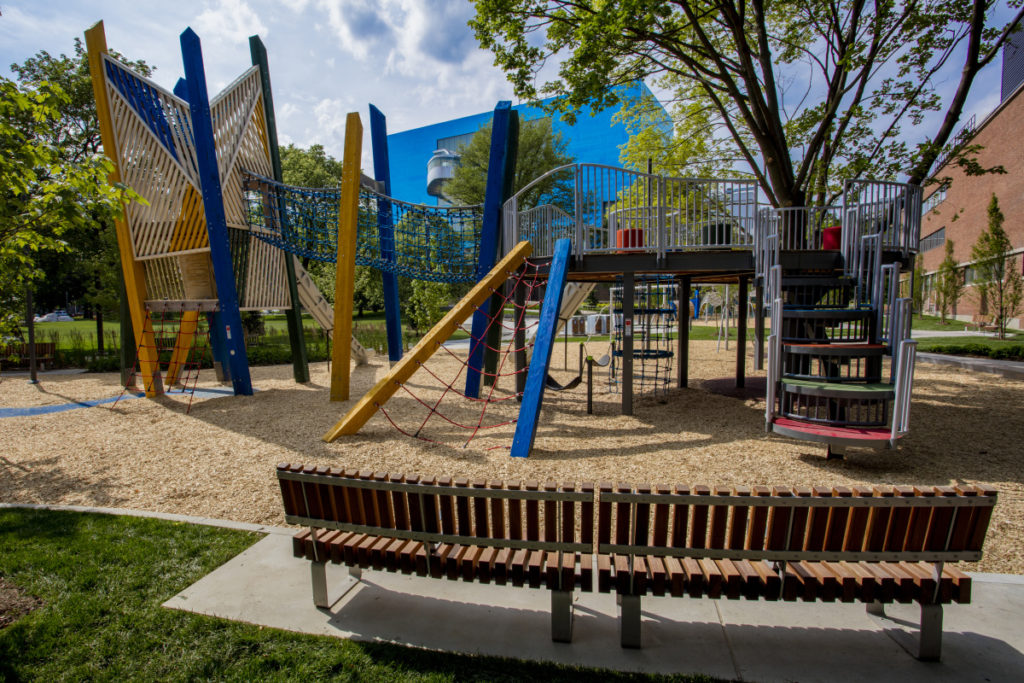 Dogs' Play Area: A fenced dog off-leash area (DOLA) is located at the south-west side of the park
The Grange: Located at the north end of the park, The Grange is a historic Georgian manor built by the Boulton family in 1817.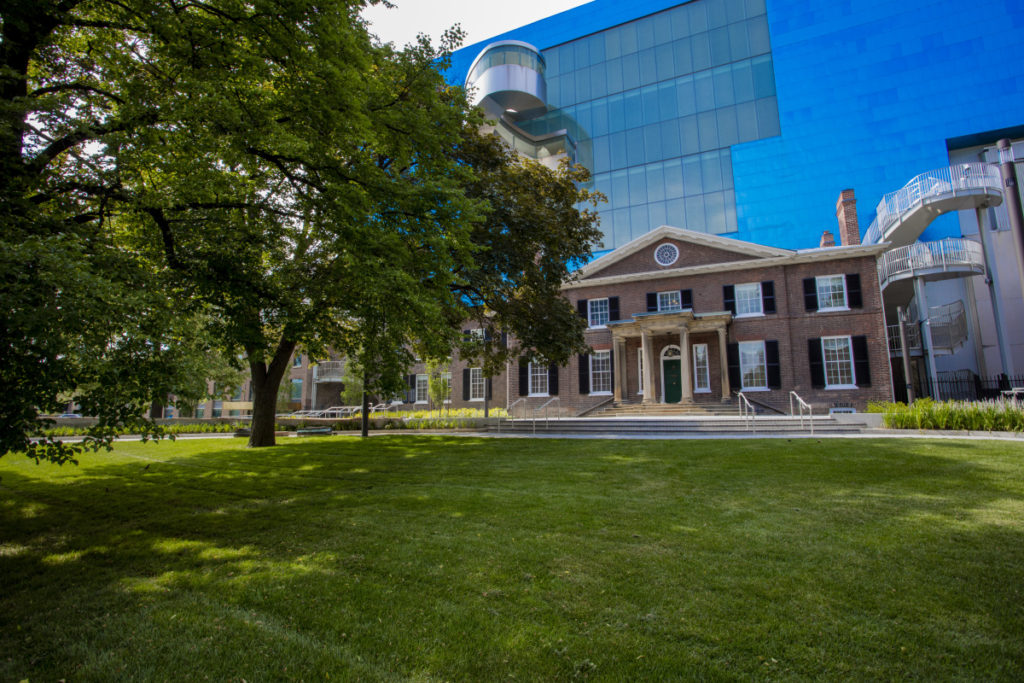 Water features: An interactive water feature adjacent to the children's play area is a refreshing and fun destination on hot days. A decorative water feature also flows in front of The Grange historic house.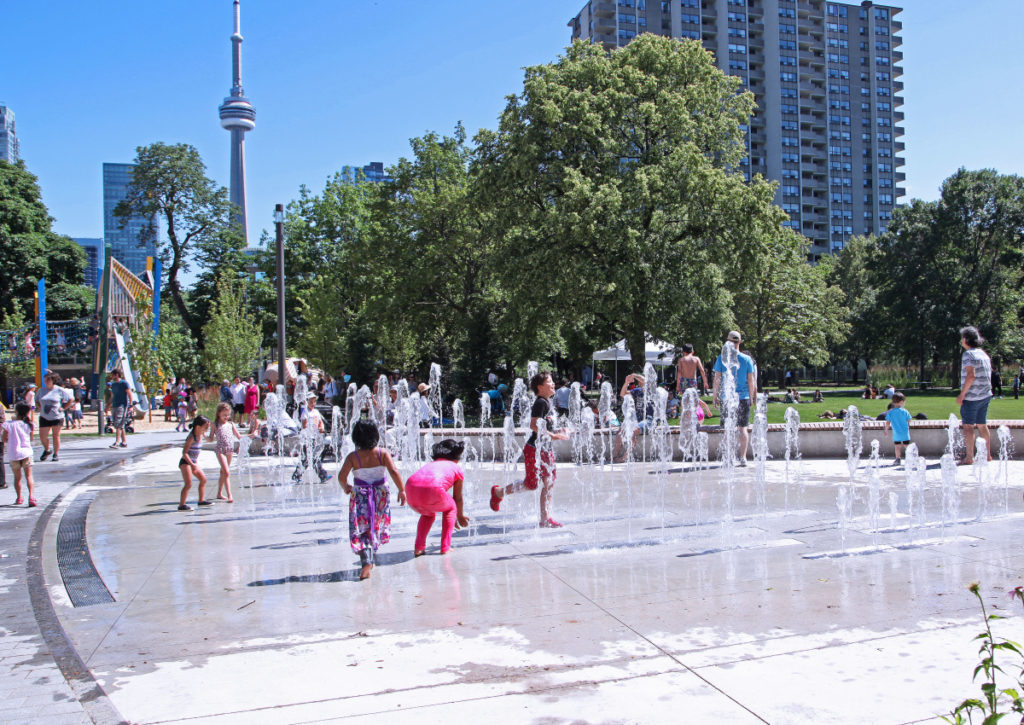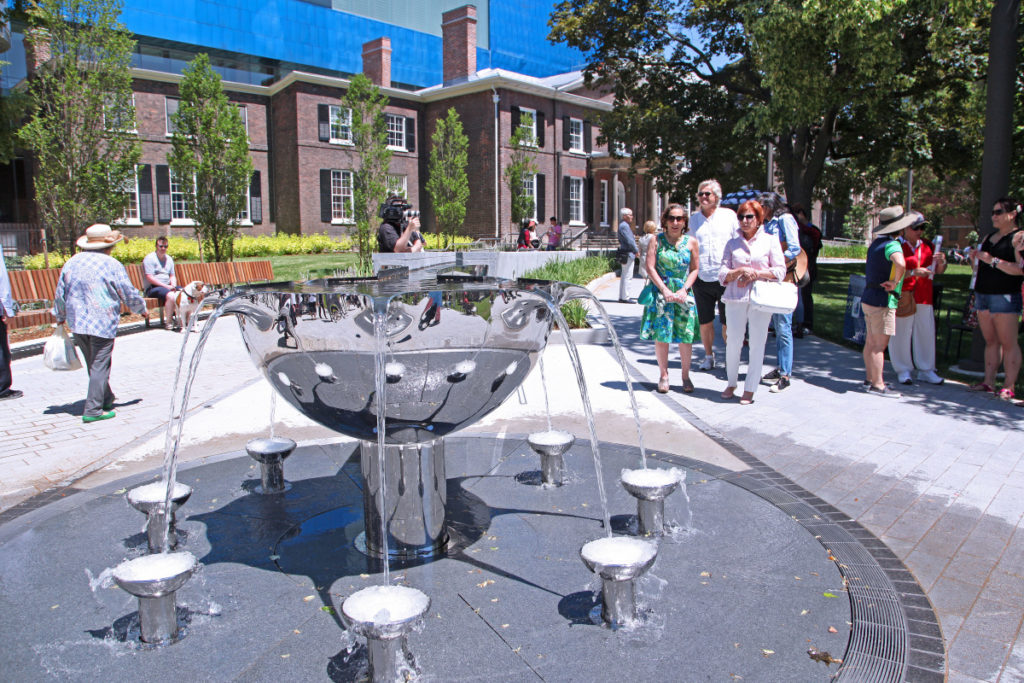 Art: Visitors can enjoy the world-famous sculpture, Large Two Forms, by Henry Moore, at the west side of the park.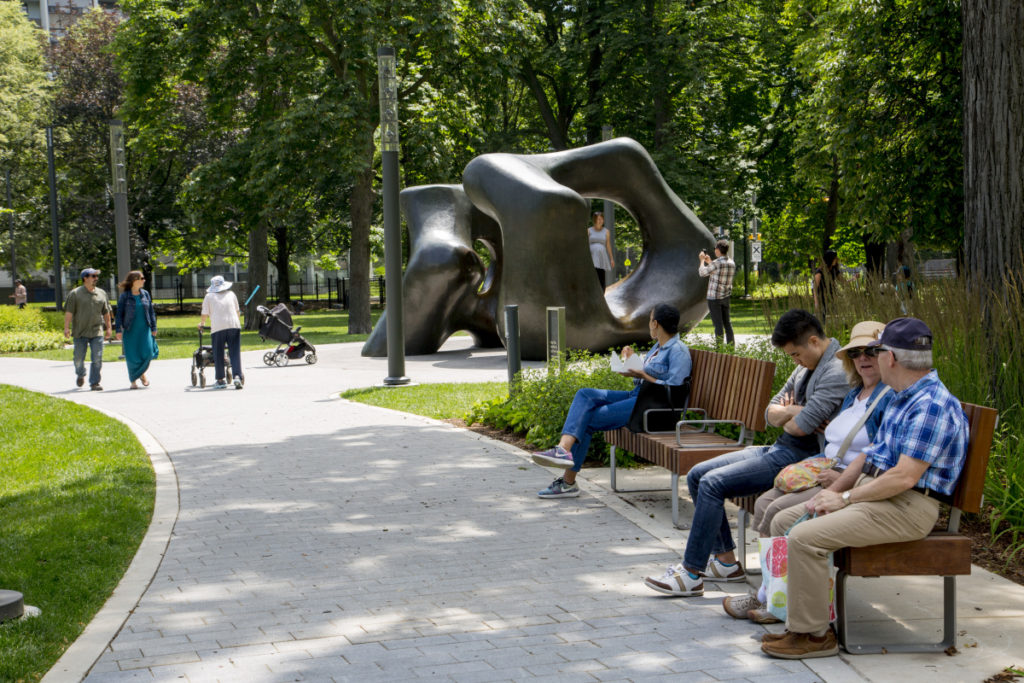 Inscribed granite paving stones – 14 inscribed granite paving stones are interspersed in the south path leading north from John Street.
The City of Toronto operates Grange Park as a public park in accordance with the Municipal Code Chapter #608. Cyclists – please note this includes the requirement to dismount and walk your bikes through the park, for the safety of all visitors. (Municipal Code 608-29.)
The ongoing sustainability of Grange Park is a high priority. The park has an irrigation system to ensure the trees and plantings receive adequate water during dry spells. A Grange Park endowment fund (Link to support page) provides enhanced support for the annual maintenance of the park. The Grange Park Community Council (link to GPCC page) provides a forum for neighbourhood residents and organizations to work with City of Toronto Parks Department and the AGO to ensure the park is kept in good order for the long term.
---
Accessibility features:
The following features make Grange Park an accessible and welcoming destination for visitors with disabilities:
Two individual unisex washrooms that can accommodate a visitor with a mobility aid (eg wheelchair, scooter); and a family washroom that can accommodate a visitor using a mobility aid and a person to assist. The family washroom has an adjustable adult change table.
Rest areas and accessible seating throughout the park, including benches with backs and armrests for support.  A number of benches are open at one end to allow visitors to transfer from a mobility aid.  Concrete pads provide a stable base for a visitor using a mobility aid to sit beside a bench.  A change in textures alerts visitors who are blind or have vision loss that they are approaching a seating area.
Picnic tables are designed to accommodate visitors with mobility aids.
Play area: 70% of the play area and equipment is accessible to children with disabilities and their care givers.
The interactive water feature is on a flat surface designed to accommodate children with mobility aids.
Water dispensers are accessible to visitors with mobility aids; water dispensers include a drinking vessel for pets and service animals.
All walkways provide obstacle-free routes with non-slip surfaces and tactile/colour signals at the edges, slopes and steps.  Handrails are provided on slopes and steps.
The plaza/stage area at the north end of the great lawn is accessible to performers with mobility aids.
Large Two Forms sculpture by Henry Moore is on a ground-level base, allowing visitors with mobility aids to approach and fully explore it.
Plantings include vegetation that stimulates the senses of touch, scent and sight.  Fountain grass and lambs ear plants provide different textures to explore; flowers are white, yellow and blue (colours most easily seen by persons with vision loss); lavender provides a wonderful scent.
Service animals are welcome.
---
Dogs in the Park
Dogs are welcome in Grange Park.  A fenced area is located at the south-west side of the park for dogs to play off-leash. Dogs must be on a leash in all other areas of the park.  The Dog Off-Leash Area (DOLA), operates under the following code of conduct established by the City of Toronto:
Comply with all signs and boundaries.
Dog(s) must be on leash at all times except when in the designated off-leash area.
All dog(s) must have a visible municipal license affixed to the dog(s).
Dog(s) must remain in off-leash area so as not to trample or endanger plant material and other park resources.
Dog(s) excluded from off-leash areas include:
Pit Bulls or other dangerous animal
Female dogs in heat
Any dog(s) that has been issued a muzzle order by the Medical Officer of Health.
Dogs shall not chase wildlife.
Pick up after your dog(s) and place waste in receptacle or take home for disposal.
Keep dogs in sight and under control at all times.
Do not leave dog(s) unattended while in off-leash area.
Repair holes dug by the dog(s) under your control.
Violation of Bylaws are punishable by fines.
Commercial dog walkers with multiple animals are not permitted in the DOLA.
Waste bags and receptacles are located at the DOLA entrance.
A dog owners association, Grange Park D.O.G., has been created.  Dog owners are encouraged to join the Association.  For further information, please contact
Email: grangeparkdogs@gmail.com
Twitter: @grangeparkdogs
Instagram: grangeparkdogs
Facebook: Grange Park D.O.G.
---
Large Two Forms by Henry Moore.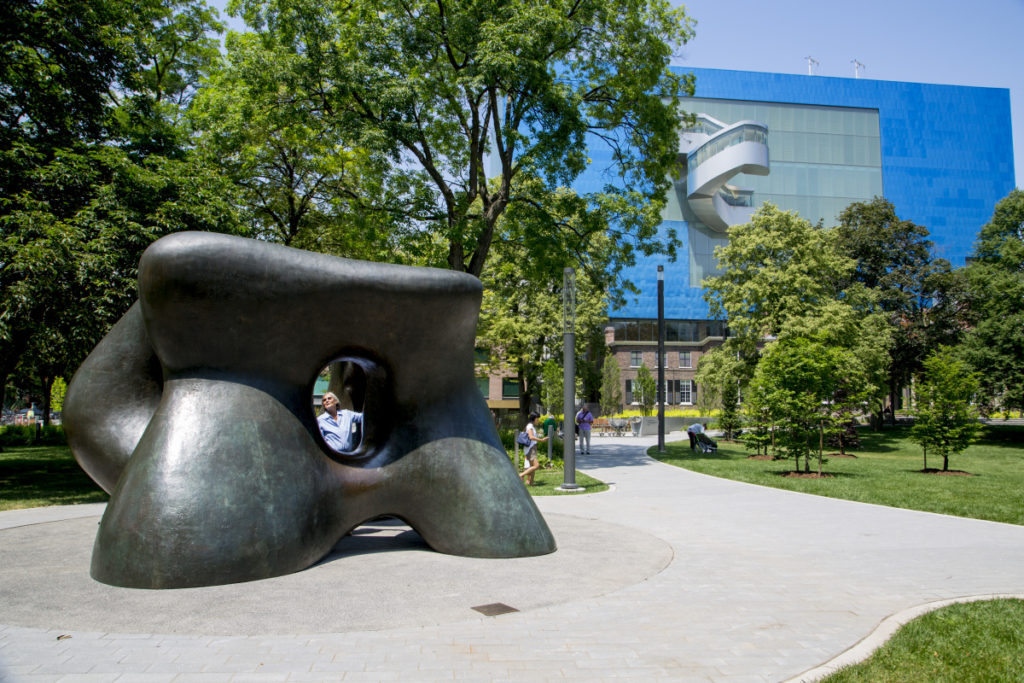 The bronze sculpture Large Two Forms was created in 1966 and 1969 by British artist Henry Moore and was acquired by the AGO in 1973 as a purchase from the artist.  The work was installed at the south-west corner of Dundas and McCaul in 1974, in conjunction with the opening of the Henry Moore Sculpture Centre at the AGO.
In June 2017, the work was moved to Grange Park, which provides a natural setting preferred by the artist for his works.  Visitors are encouraged to view this dramatic sculpture both during the day and under illumination at night.
---
Inscribed Paving Stones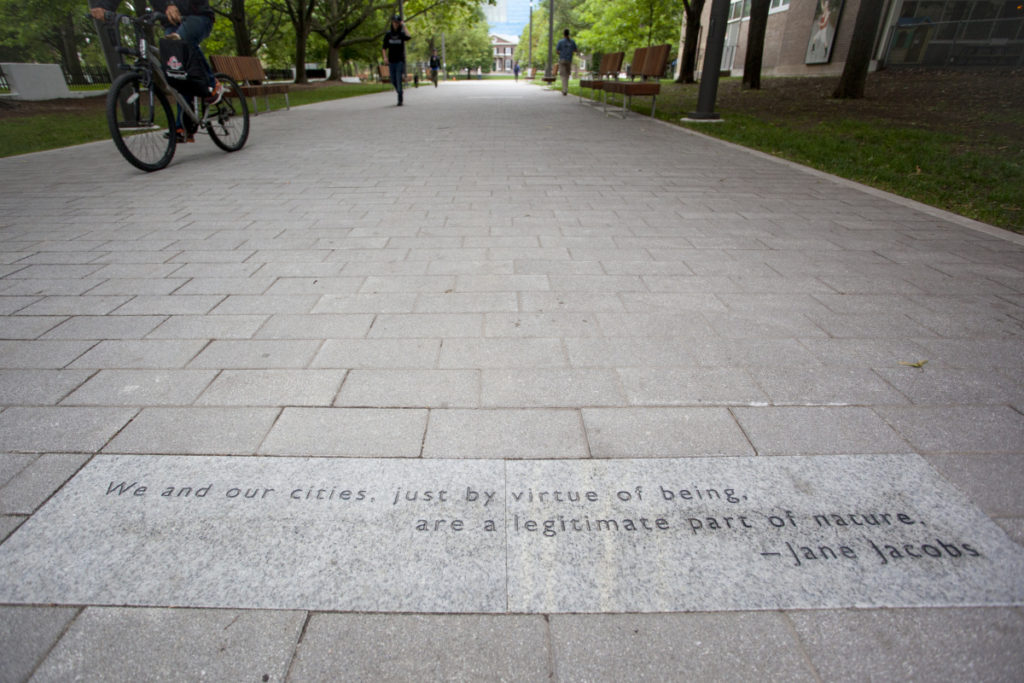 One of Grange Park's special features is a series of 14 quotations inscribed in paving stones along the promenade leading into the park from Stephanie Street. The quotations are from a selection of Canadian or Canada-based personalities relating to the theme of nature or to the diversity of our community.   As part of the Grange Park revitalization project, the local community submitted proposed quotations and then voted on the final selection. The words of these authors, poets and civic minded activists reflect the history and diversity within our community and are now permanently included in our park:
Live with me on Earth
among red berries and the bluebirds
and leafy young twigs whispering.
– Milton Acorn, Live with Me on Earth Under the Invisible Daylight Moon, Dig Up my Heart: Selected Poems
In the spring, at the end of the day, you should smell like dirt.
– Margaret Atwood, Bluebeard's Egg
Trees even breathe for us and never ask to be thanked – they give us unconditional love.
– Roberta Bondar, Introduction to Toronto Tree Portraits
We aren't the masters of the earth. We're the servants.
– Joseph Boyden, The Orenda
This city is beauty, unbreakable and amorous as eyelids
– Dionne Brand, Thirsty
I'd rather have roses on my table than diamonds on my neck.
– Emma Goldman
In Cree, trees are "who," not "what".
– Tomson Highway
We and our cities, just by virtue of being, are a legitimate part of nature.
– Jane Jacobs, The Death and Life of Great American Cities
Tomorrow, or maybe the next day, will come the snow
but today the sky is the pure amazing blue that is the colour of promises.
– Vincent Lam, Bloodletting and Miraculous Cures 
Look, in shattered midnights,
On black ice under silver trees,
We are still dancing, dancing.
– Gwendolyn MacEwen, Afterworlds
Do we know where each person came from, and why, And from which unfriendly land?
– Shimen Nepom, Tramvay Lider (Streetcar Songs)
All trees attest to the wonder of evolution, the ability of life to adapt to unexpected challenges.
– David Suzuki & Wayne Grady, Tree: A Life Story
Mon pays, ce n'est pas un pays, c'est l'hiver.
(My country isn't a country, it is winter)
– Gilles Vigneault, Mon Pays
It takes a lifetime to find one's own light.
– Joyce Wieland, Artist on Fire: The Work of Joyce Wieland by Kay Armatage (film)