History
Grange Park is a two-hectare green space in downtown Toronto. The park was originally part of The Grange estate built in 1820 by the Boulton family, who played an influential role in developing the young city of Toronto. The area now known as Grange Park served as the Boulton family's front lawn. with a pathway from John Street and an elliptical path for carriages leading to the front door of The Grange.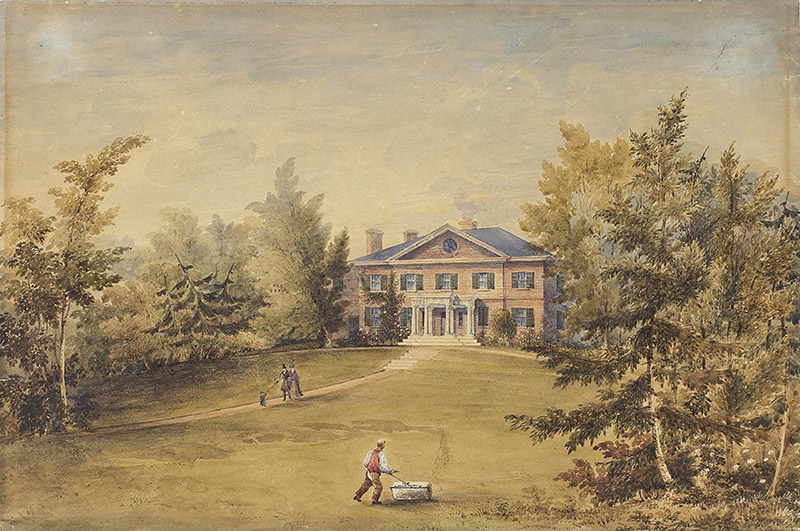 Henry Bowyer Lane (British, 1817 – 1878), The Grange, 1840 c, watercolour on paper, Art Gallery of Ontario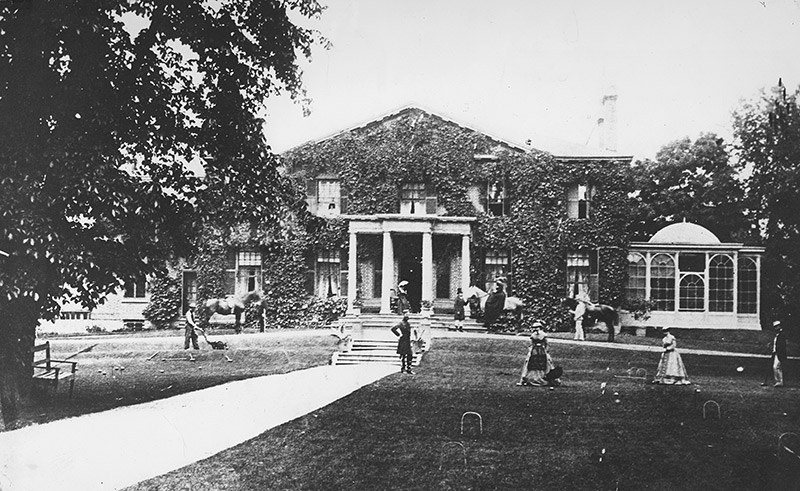 Photograph from mid-1860s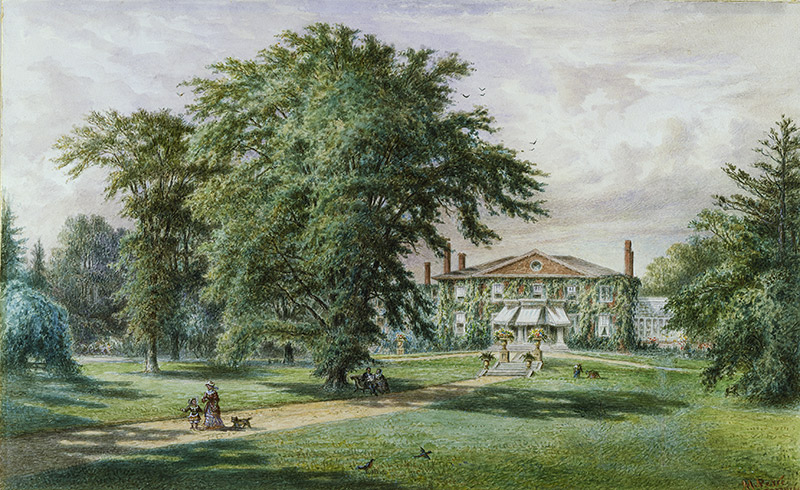 Watercolour of the Grange by Henri Perré c 1875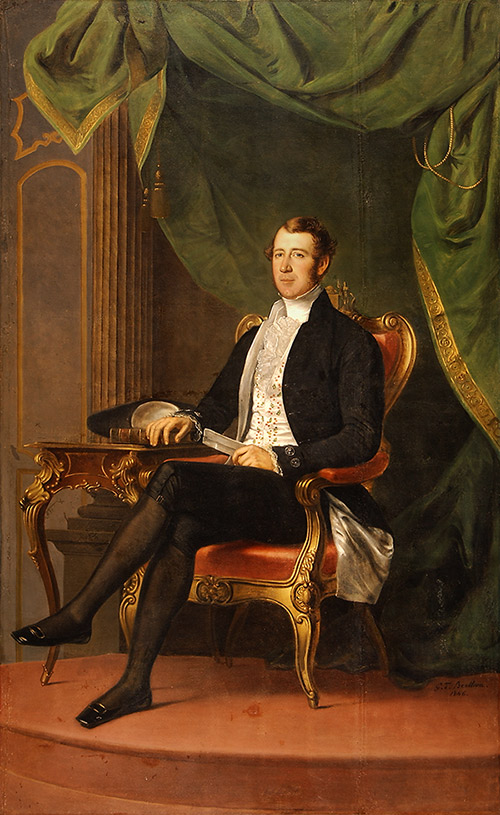 William was mayor of Toronto 4 times–each time by appointment of his fellow aldermen. He was also a member of Parliament. Very fond of horse racing, he was Secretary of the Jockey Club. The St. Leger racetrack was on Grange property.
George Theodore Berthon (Canadian, 1806- 1892), Portrait of William Henry Boulton, 1846, oil on canvas, Art Gallery of Ontario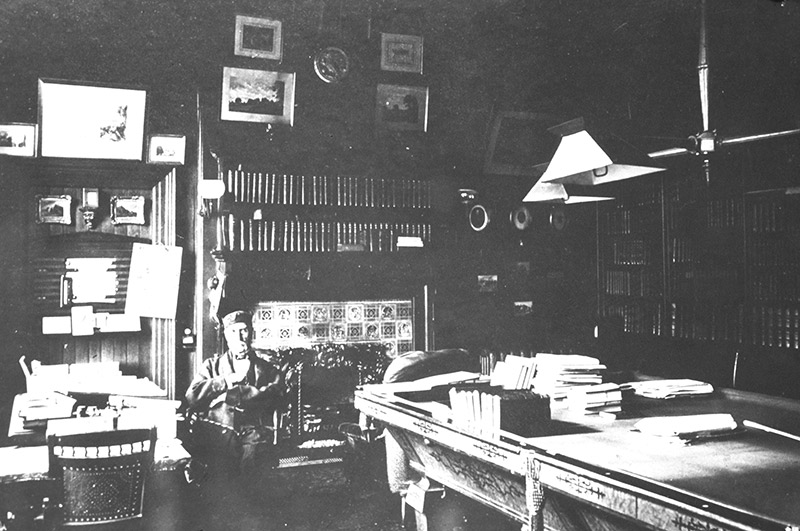 Goldwin Smith in the Grange library. Goldwin Smith was a scholar, journalist and Harriette Boulton's second husband. Considered by some to be Canada's first political scientist, he wrote many books and articles in this library. You can visit the library in The Grange.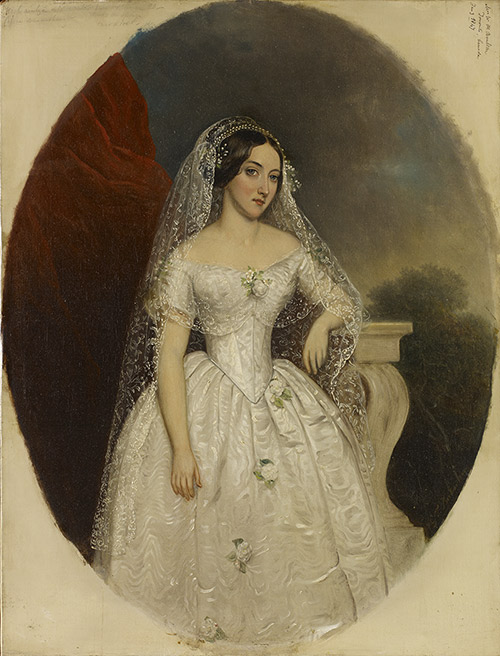 This wedding portrait of Harriette was done by artist George Berthon. It is presently on view in the Canadian wing of the AGO. Harriette came from an influential and wealthy Boston family. On her marriage to William, The Grange was put in trust to her as part of what was known as a marriage settlement. This is why the donation of the Grange to the AGO was done in her name.
George Theodore Berthon (Canadian, 1806- 1892), Portrait of Mrs. William Henry Boulton (Harriette), 1846, oil on canvas, Art Gallery of Ontario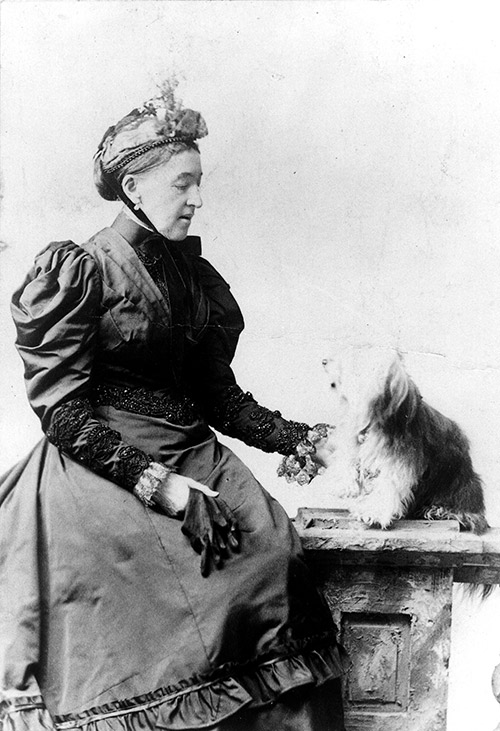 Harriette Boulton Smith and Flossy c 1895. Flossy was Harriette's Skye terrier. On one of Harriette's birthdays, Goldwin wrote a poem supposedly from Flossie to her mistress. When Flossie died she was buried in the garden. Her tombstone is now in The Grange library anteroom.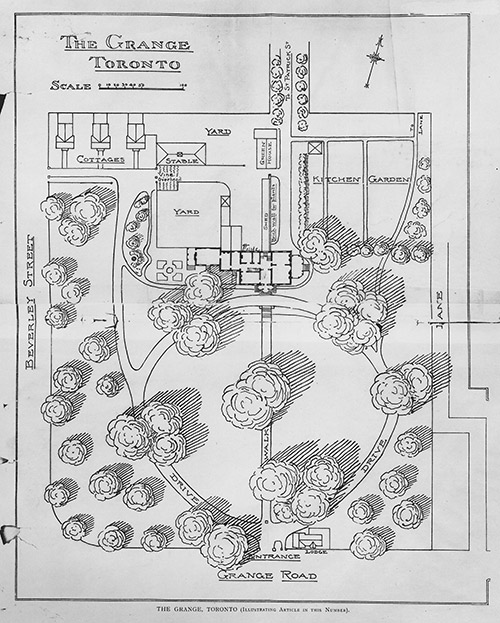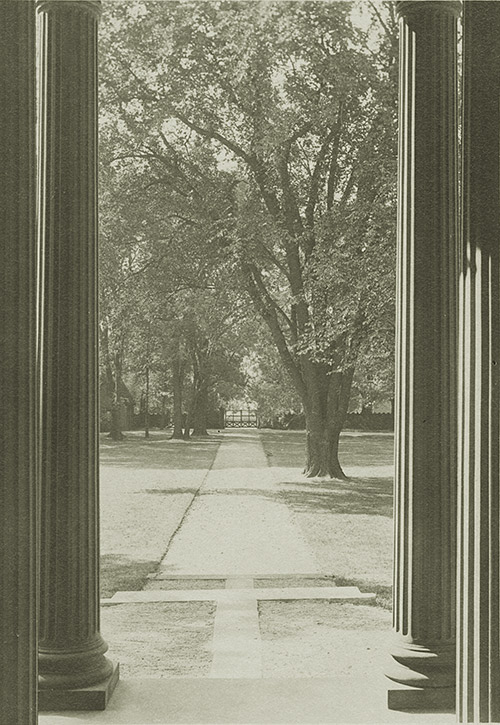 View of the Elms From the Grange, 1910
In 1910, Harriette Boulton Smith bequeathed The Grange estate to the newly founded Art Museum of Toronto, for the purposes of building an art museum. In 1911, the Gallery entered into an Agreement with the City of Toronto to operate the land south of The Grange as a public park. This agreement still stands between the AGO and the City, and Grange Park has become a well-loved and well-used neighbourhood park.
In the mid-1970's, Grange Park was expanded through the South East Spadina Part 2 Plan process through the closure of Grange Road (from Beverley to John) and John Street (from Stephanie to Grange Road), to establish the area that comprises the park today.
Grange Park currently serves a daytime population of approximately 5,000 people, including – neighbourhood residents, local office workers, college students, families and seniors. The park is within a 5-minute walk of a number of social housing communities serving 3,000 residents who depend on Grange Park as their primary outdoor space or "backyard". The park is versatile for its small size, providing a pastoral setting for individuals to relax, as well as a place for outdoor activities for daycare groups, children's camps and afterschool groups. It is a favourite destination for dog walkers, tai chi practitioners, cyclists and parents/grandparents with young children who spend hours in the wading pool during the summer and at the playground year round. It's a pleasant shortcut between Dundas and Queen Streets for pedestrians and cyclists. The large lawn in the middle of the park attracts spontaneous bouts of soccer, Frisbee playing and catch and depending on he year, an outdoor ice rink. . The large trees provide a cool and quiet spot to read, snack and snooze during hot summer days.