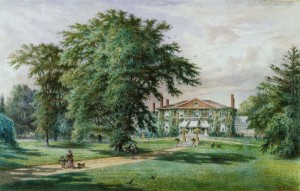 This website has been created by the Grange Park Advisory Committee (GPAC) to share information about Grange Park and its revitalization project.
Grange Park is a beautiful and historic greenspace located between Beverley and McCaul Streets, south of Dundas. Like many inner city parks, it is in need of special care to return it to its natural beauty. The local community has taken the lead to work with the Art Gallery of Ontario, the City of Toronto and other neighbouring organizations to restore and revitalize Grange Park.
Vision for Grange Park:
"To undertake a restoration and revitalization plan that will make Grange Park green, strikingly beautiful, resilient, sustainable and accessible. To create a park that is interactive as well as a place for contemplation. To create a park that welcomes all neighbours, residents and visitors to our community by utilizing design excellence, state of the art conservation techniques and outstanding works of art."
Update
October 2014

For an update on our work over the summer, future plans, and the most recent design images for the Grange Park Revitalization Project, click here.